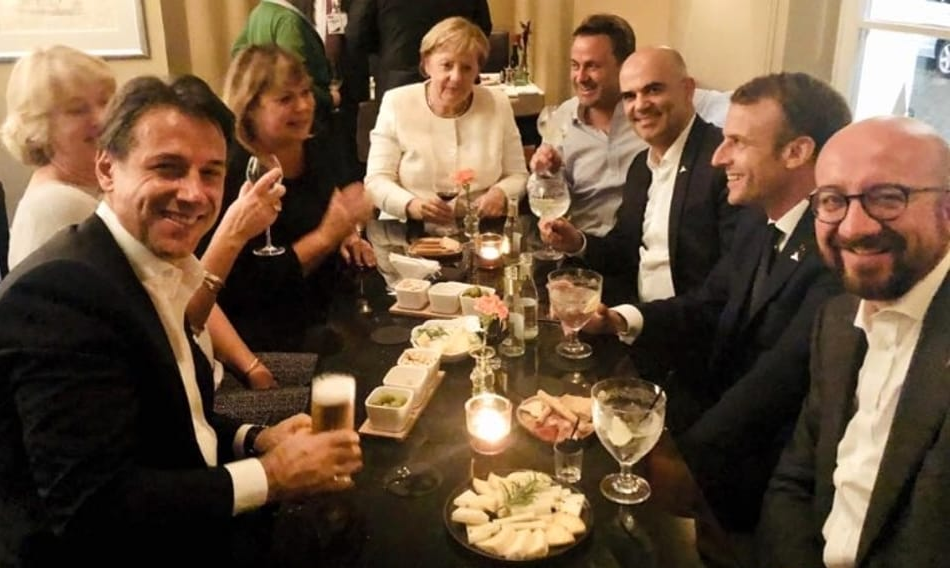 There is a nice group of friends that regularly meet for dinner in the European capital. Today Leo couldn't attend because of a bad flu that made him lose weight, but the others are having a great time:
Viktor is fighting with the rose-seller: "You should leave the restaurant!"; Giuseppi is trying to fix his chair which is quite wobbly at the moment; Mateusz is ordering the most expensive dish, pizza with white truffles and Almas caviar.
"I don't think we should split the bill this time" says Mette observing him. "I agree – says Sebastian – some people always eat more than the others!". "Relax, that's what you do when you are with friends", replies Charles with his jolly smile. "You do that, because you hope next time it will be your turn to pay less – says Mark coldly while eating pizza with one apple – which is never the case".
Emmanuel disagrees: "Don't forget that those on the East/Central side of the table invite us often to that bar where everything is so cheap. We let them join our circle because of that". Angela acts like she doesn't care but one can feel she shares Mette's concerns. Sanna tries to lower the tension talking about the weather: "Don't you think it's weird that it's so warm in BrusselsBrussels (abbr. BRU, French: Bruxelles; Dutch: Brussel), officially the Brussels-Capital Region (French: Région de Bruxelles-Capitale; Dutch: Brussels Hoofdstedelijk Gewest), is a region of Belgium comprising 19 municipalities, including the City of Brussels, which is the capital of Belgium. The Brussels-Capital Region is located in the central portion of the country... in February? Maybe we should worry about that"
Vladimir, a shady acquaintance that couldn't reserve a place in the restaurant, is observing through the fragile window with a satisfied smile: if those idiots fight and stop meeting he will have seats for all his friends next time.