By the end of February 2002 the period of dual circulation – when both national currencies and the euro were living in harmony – came to an end.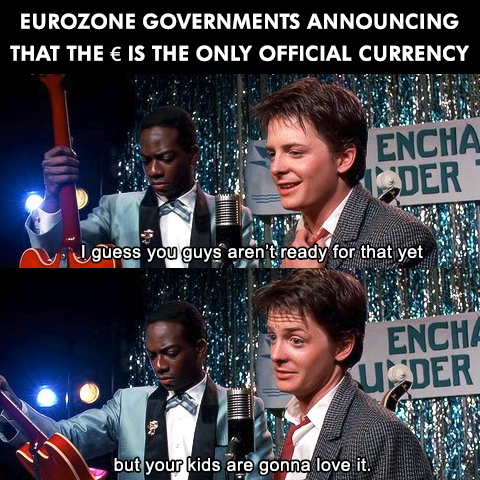 The euro was now the sole currency within the twelve participating countries. Finally the dream of any EU supporters was fulfilled… but not only! That day marks the beginning of the 2000s euro-cringe videos, a glorious decade in the history of European communication. Enjoy the compilation (with a young Marion Cotillard at 1:52).
The euro-cringe movement quickly expanded to every corner of the EU; it was unstoppable. By 2009, the Institutions released the euro dancing video series: the first was a euro-coin limbo dancing on inflation, the second featured drums and dollars.
The dream was completed, our hearts full.
Bonus track, in case the euro-cringe let you down: Jean-Claude Juncker fake-stabbing Joaquín Almunia, who defends himself with a giant euro coin; all this under the eyes of Didier Reynders.
In the same period, governments and private companies started producing € to national currency calculator, here a few of our favorites: